Simone, class 1983, from Sestri Levante, has been passionate about sailing since he was a child when he used to compete in optimist regattas organized by "Lega Navale Italiana".
Sharing the same passion as his father, Simone learnt as a boy how to sail offshore and experienced cruises and holidays on a 25 feet singlehull all over the mediterranean.
His passion grew when he got in contact with multihulls boats, in particular with trimarans. Since that day, he has supported his father in their 24 feet composite trimaran construction, lately named "Muffolo".
Since the historic launch, he hasn't stopped sailing Muffolo until today, when he decided to share his great and awesome sailing passion with anyone who'd like to taste it.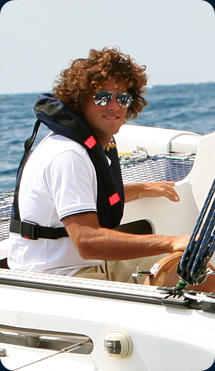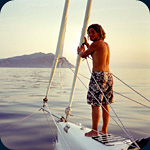 OTHER INFORMATIONS
Simone has got the Nautical OFF-SHORE licence from the "Capitaneria di La spezia", the International lifeguard licence from the municipal pools of Lavagna and the radiophonist RTF Certificate.
Bodyboarding is his great passion, where he has placed well in both national and international competitions. Simone has been a 2X champion of the Italian Bodyboarding Championship.